Welcome to the web site of Mellor Archaeological Trust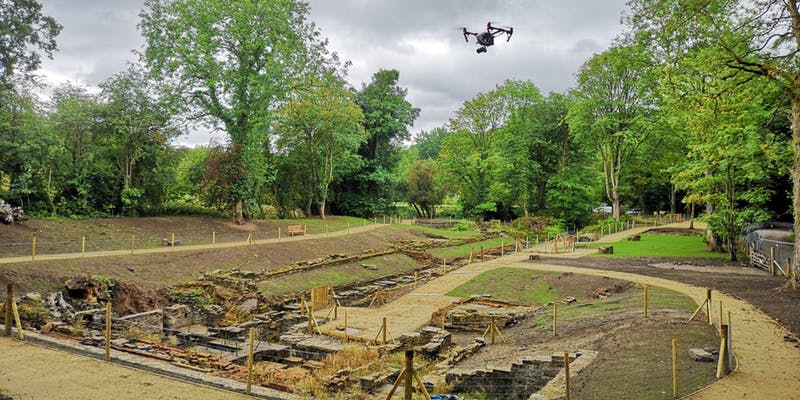 Landscaping at Mellor Mill
21st century technology flies over late 18th century technology

Mill Landscaping Photos from Arthur Procter
The Trust Christmas Lunch 2018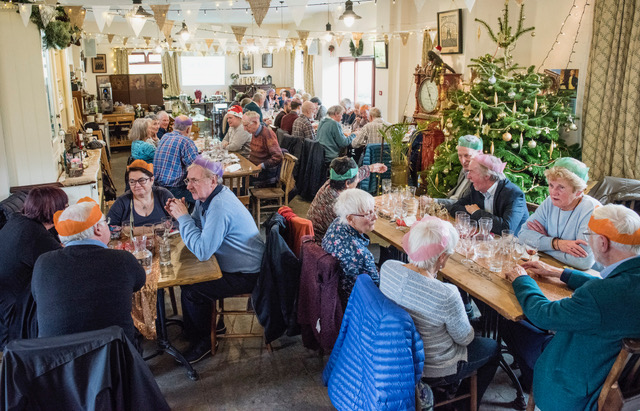 Christmas Lunch
12.30 on Sunday 2nd December 2018 at Roman Lakes Tea Rooms
'Their Christmas starts here' to paraphrase the clarion call of 'Ready –Steady Go', 'The weekend starts here'. That Friday evening programme that must have been essential viewing for many of the day's diners, when they were nowt but lads and lasses, the sallow youths of many a year ago.
But as well as play this weekend, work had to done. Work in 'manning' the MAT stall at Saturday's Winter Wonderland in Marple Bridge, led by Bob & Hilary Humphrey – Taylor. The Trust's Gazebo sat midst Morris Men, the Manchester rock Choir and a host of entertainers both those young and those not so young.
To continue reading click here
Trial Dig 2009
Mellor Mill Postcard: The University of Manchester Archaeological Unit (UMAU) and Mellor Archaeological Trust (MAT) carried out an archaeological evaluation in April/May 2009 at the site of Mellor Mill, Marple Bridge, Stockport (centred on the National Grid Reference of SJ 9670 8845). The evaluation was carried out as part of the Mellor Heritage Project (MHP); a three-year Heritage Lottery funded community archaeology project.
The evaluation proved successful in establishing a substantial level of surviving structural remains associated with the 18th century cotton mill in both trenches, as well as an early 19th century corn-drying kiln within Trench 1. Trench 1 also revealed the ground-floor remains of a late 19th century brick structure to the southeast between the southern elevation of the cotton mill and the mill pond which possibly served as a warehouse. A large assemblage of artefacts predominantly associated with a gassing frame were also recovered.
Read the full article here
Click here to read a full pdf copy of the 2009 Archaeological Evaluation report.
Where is Mellor?
Now on the edge of Stockport in Greater Manchester, Mellor's location is historically important. 
On the south-west and north-west, it is bordered by the two great rivers, Goyt and Etherow, which drain the SW Peak District and join to form the Mersey at the lowest point of Mellor.
On the east, a high ridge overlooks a valley, behind which is Kinder Scout. Three spurs, separated by brooks, project west from the ridge.